Coronavirus and Real Estate How to Prepare for the Effects of the Epidemic?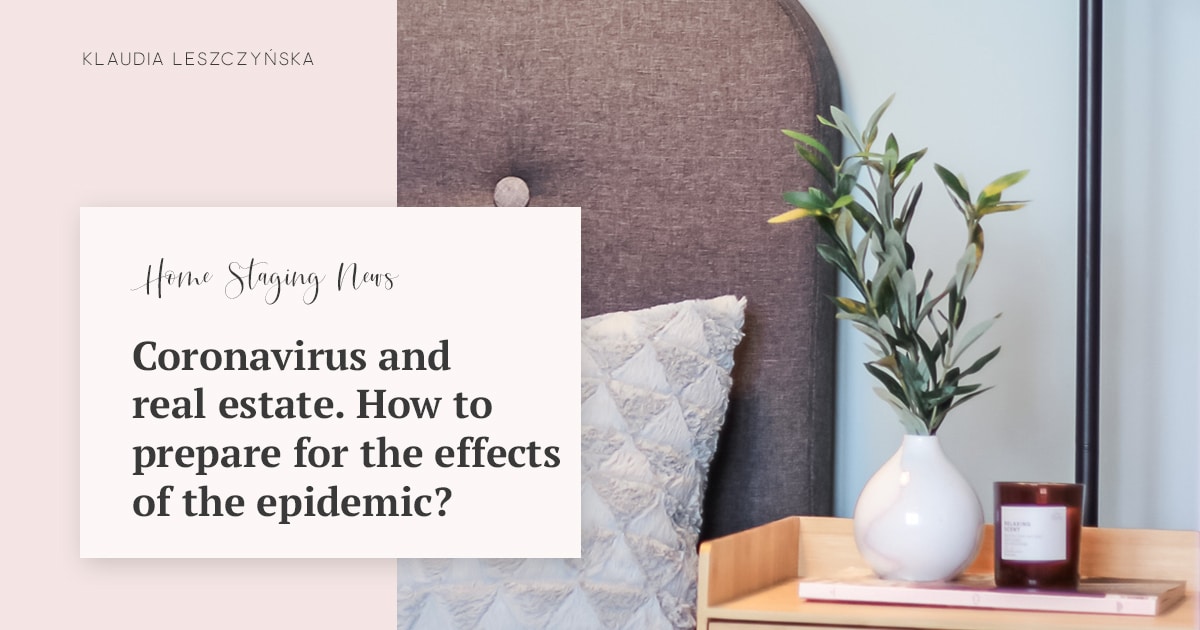 COVID19 and real estate. How can we prepare for the effects of the epidemic? How can the real estate market prepare for the effects of what's currently happening? I can't tell you whether real estate prices will go up or down. There is a lot of speculation on this subject. I just wanted to briefly show you the possible scenarios because I care more about getting ready for what may happen right now when many investors still have the opportunity to do so instead of waiting for what will actually happen. I think it's better to consider different options and prepare an action plan for each of them rather than just sit on your hands and wait for which option will prove to be the real one.
WILL THE PRICES OF REAL ESTATE FALL DUE TO CORONAVIRUS?
It's possible. Obviously, now in the hottest period, people won't be willing to explore a lot of real estates. Some people will postpone the decision to buy an apartment for later, some will lose the opportunity to buy at all because their business will fail or they will lose their source of income. The expectation of falling prices by customers who are simply waiting a long time for this moment by refraining from buying real estate can also be an important factor here.
HOW WILL COVID-19 AFFECT RENTING?
Yet another mysterious question. On the one hand, because of the social distancing renting for rooms in the near future will probably not be an attractive option, but … Some people will probably come to the cities for work and they might not be able to afford to rent the whole apartment right away, so they may rent a room instead. But there is another aspect. To survive the current situation, many investors who rent real estate short term, i.e. mainly for tourist purposes will switch to long-term rental. What does it mean? It means that the long-term rental market will be flooded by a large number of apartments with interiors straight from Pinterest. Because that's the trend on the short-term rental market and these flats simply have a better standard and generally look much better.

WILL THE RENTAL PRICES FALL?
I don't know. I would love to be able to answer this question because I also have flats that I rent. It all depends on what you offer. If it's attractive for people looking for apartments, then there should be no problem with the price. It may be lower, but you won't have a vacancy. It also might go up for some types of flats (e.g. micro-studios) if the demand in your city increases. As I wrote at the beginning, there are many possibilities, but when I was preparing to rent an apartment I have always made several variants of possible revenues – from the most optimistic, through the most real, to the so-called crisis one. Thanks to this, if the rental income drops in the next season, it will not kill your company. The trick is to calculate profitability in a way that you earn even in the face of a crisis (although, obviously no one expected a crisis like this one).
HOW TO PREPARE FOR THE FOLLOWING MONTHS ON THE REAL ESTATE MARKET?
If you have been in a vacancy situation before, waiting for new tenants for a long time or breaking even or just a little over the loan installment for the rented apartment, you will have to prepare for changes. Because that means it was bad before and in a moment you will have to pay extra to keep the business going. You may be able to afford it if you have one apartment but if it's your business then you really need to start working on your action plan. In the current situation, I think that nothing will help you like a good home staging, thanks to which your apartments will attract people and stand out among others. Yes, I know it sounds like self-promotion but apart from being a home stager, I'm also a real estate investor.
Now is the best time to look at your apartments, check if they are competitive, count how much you really make on them and think what you can do to make your offer visible and desirable. This applies to both the rental and sale of real estate. If you have contracts now signed up to August or September, take a critical look at your business. Try to assess how much rental income can fall and ask yourself if you can survive it. Good Home Staging will allow you to keep your good profits or survive despite the dropping rates. Count how much you can invest and decide what to invest in to make your apartments look better. There is still some time left so you can prepare.
HOW MUCH SHOULD I INVEST IN HOME STAGING?
I am aware that the costs of professional Home Staging can be too high for you at the moment. That's why I am glad like I've never been before, that I have written my step by step guide for investors on how to effectively home stage all by yourself preparing your apartments for rent or sale. By downloading a free fragment of my e-book, you also get a EUR 10 discount on it with code: INSTASTAGING10
And what if the rental prices somehow go up? Well, I wish we all had such problems. If the prices go up you will definitely earn even more thanks to your foresight.
During quarantine, I don't do any face-to-face consultations but I do see my clients online. They send me photos and videos of their apartments and we discuss everything during our online consultations. It works! So if you need help contact me and I will gladly help you!
HOW TO SELL APARTMENTS?
One word about selling apartments (and renting too) in the time of the coronavirus home staged apartments are becoming more and more desirable because they are ready for move-in. Thanks to this people don't have to do renovations – they can just move-in to a finished apartment limiting the risks to the minimum and just live. During war people also live somewhere and children are born. Life goes on though certainly different.
If you have a virtual walk or even a video of your apartment it will certainly be a huge advantage. No one can decide whether they want an apartment or not without seeing the interior. At the moment it is an indisputable advantage.
WHAT DO YOU THINK OF ALL THAT?
Guys, I hope you will make good use of this knowledge. We can't panic but we have to prepare for the future as much as we can. I believe we can do it. If you have any ideas I didn't mention here be sure to leave a comment – that way you can help others.
P.S. It would mean a lot to me if you could share this post. If you think it's worth it, of course.